ABOUT US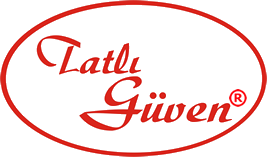 ABOUT US
TATLI GÜVEN, which was laid foundation by İhsan Güven who got down to confectionery in 1953, opened its first branch in the historical Bakırcılar shopping center in İzmit in 1985. Our confectionery shop, which set off adopting the principle of clean and qualify production, has created various pastries prepared and cooked by our special recepies and, above all, a new and delicious one that is created by our father, İhsan GÜVEN, by combining taste of walnut with thin baklava doughs and milk.
The new product with light and unique taste has been included in the menu with the name of SÜTLÜ NURİYE (Milk Nuriye) with a humouristic edge. SÜTLÜ NURİYE, which has become famous and much sought after in recent years first in Kocaeli province then all over the country, has been demanded due to its lightness by Kocaelispor, the football club of Kocaeli and other leading sports clubs all over the country.
The pastry has assumed the title of National Football Team's dessert since 1996. It has been the unchanged dessert of the National Football Team in all the camps set up in and out country.
We have been presenting the delicious pastries that have been cooked in the past to our customers with a new taste that is demanded in our days.